TOP 10 Ways for Students to Make Money
We know it's a tough world out there for students. So here are some easy steps for you to make money, all whilst studying!
​
10. Sell your stuff at flea markets!
Flea markets and bazaars are very popular places for people to shop around. Maybe it's time to get rid of those pair of jeans you thought you would fit but never could. We are sure there are many things you could search around in your house and sell.
Some popular bazaars include:
Amcorp Mall, Petaling Jaya - Rent is RM 80 for 2 days
Keyya Kayya Bazaar - Rent is approx RM 100 a day
Vendeur Festival
9. Sell things online!
Nowadays, many students have utilized social media platforms such as Instagram and Facebook to sell a variety of items, from clothes, phones accessories, to homemade items and even food. With the advancement of technology, many people are now utilizing social media and their phones for easy, online transaction.
Some popular websites to shop from includes:
8. Apply for part-time jobs!
To pass the time and earn some extra cash, students are trying to find a lot of part-time jobs through freelancing, promoters, and part-time jobs at F&B outlets.
Here are some websites you can browse through to find promoter jobs:
You can also visit YouthUnited.MY's listings of awesome jobs @ http://youthunited.my/jobs
7. Sell your old books!
Do you have any books from your previous semester? Why not sell it? You might be able to cover back half your cost, or more if you kept your textbook in good condition!
Now's the perfect time to network with juniors. Place posters all around your campus to promote your textbooks! Unfortunately, if you didn't buy any, this meme sums it up perfectly...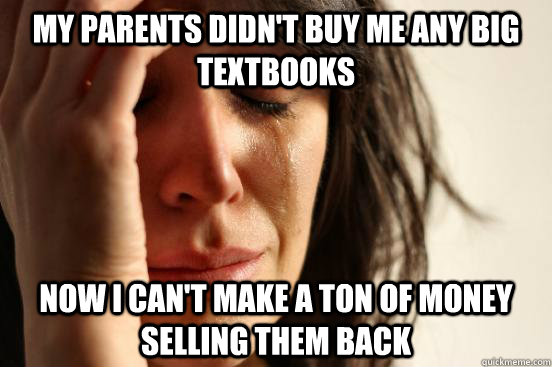 6. Rent your car
Some bold students have taken the extra step to rent their cars out to carless students who wish to drive around. We are legally bound to say that we do not support this idea.
The fact that it is students cars for rent, one should be expecting Kelisa, Viva, and Myvis for rent. Price starts from as low as RM 60 per day!
Here are some websites where you can rent cars!
5. Mystery shopping
Many brands are actually keen for feedback from customers, but they want unbiased feedback. That's why they seek companies who finds mystery shoppers. Mystery shoppers are generally paid for their services, or rewarded in the form of keeping the purchases themselves, or sometimes both.
Here are some websites you can apply for mystery shopping in Malaysia:
4. Proof-reading other people's work!
If you're fluent in reading and writing Bahasa Malaysia or English, perhaps you would like to consider offering your services to proofread your friend's proposal submissions for a minimum fee. Usually charges starts as low as RM 30 depending on number of pages! It's also a great way to improve your reading and writing skills. Perhaps you would start advertising on posters and flyers around campus.
3. Buy a dotcom!
If you think of an awesome website you'd think people would visit, why not purchase the domain? You can sell the idea or the URL for a good price later on!
Some domains costs as little as RM 10 but you can sell it for thousands (or even millions)!
Perhaps you can even develope the website into an enterprise.
2. Start making Youtube videos!
There are many Vlogger (video bloggers) out there, who get paid by companies to review their products. They can also generate revenue from the ads placed on their videos!
With theYouTube Partner Program you can profit from making and uploading videos. You will receive a percentage of the advertising revenue collected per 1,000 views.
Some famous YouTubers includes JinnyBoy, Michelle Phan, Nigahiga and the likes. They are now successful thanks to their passion of uploading videos based on their interests.
1. Blog your way to the top!
Influential bloggers are in demand to review and be paid to use a brand's products.
Some have earned enough to live comfortably off their income to work as a full-time blogger. Bloggers are also invited to the most hip events, are the first to try out the best products, and some jetset across the world to attend the most prestigious fashion shows and concerts. You must know what people like to read and put your own witty spin on it!
Some tips on blogging:
Try to blog minimum once a week
Make sure the content is funny and relatable
Use a lot of visuals (pictures and videos) to support your content!
Exchange links with other like-minded bloggers!
Promote your blog to your family and friends, and ask them to share the links!
Some famous bloggers are:-
We hope you students have benefited from reading this post! As Tom Cruise's famous quote from Jerry Maguire goes, "SHOW ME THE MONEYYY!"
Have a blog? Or other ideas on how students can make money? Tweet to us, @YouthUnitedMY or drop us an email, hello@youthunited.my!